ept – Press releases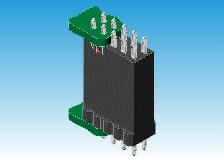 Automotive high-current applications with the ept Tcompress® press-fit zone

With its innovative Tcom press
®
press-fit zone, Peiting company ept automotive offers solutions for high-current applications in the automobile industry. Press-fit technology has found its place in many areas of automobile signal transmission, for example for airbag sensors and ABS control systems, and is now being used more and more for high-current applications in vehicles. Here strong currents are lead in through several press-fit zones.
This offers many advantages: lower electrical resistance and as a result a decrease in intrinsic heating.  Very low levels of contact resistance of <<1mΩ in the contact area hardly contribute towards intrinsic heating, thus helping to improve the system's energy balance. Markus Schmölz, Business Development Manager with ept automotive says: "This property, together with known benefits such as a higher degree of connection reliability than solder connections, makes press-fit technology the first choice when it comes to high-current applications in automotive systems."
This is also evidenced by the fact that, until today, more than five billion press-fit contacts in several million ABS brake systems have not resulted in a single fault.